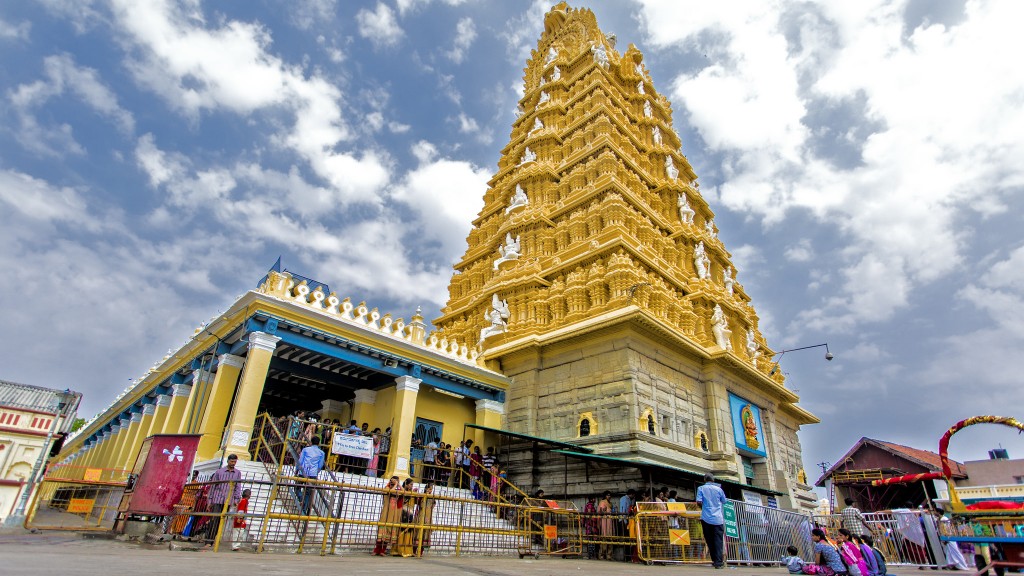 Sri Chamundeshwari Temple is one of the most sacred place in India. The temple is one of the eighteen Maha Shakti Peeth in India, located atop of Chamundi Hills about 13 km from the palace city of Mysore. The temple was named after Chamundeshwari or Durga, the fierce form of Shakti, a tutelary deity held in reverence for centuries by Mysore Maharajas.  It is known as Krouncha Peetham as the region was known in Puranic times as Krouncha Puri.
Shakti Peethas are divine seat of Maa Shakti due to the falling of body parts of the corpse of Sati Devi, when Lord Shiva carried it and wandered in sorrow. There are 51 Shakti Peeth linking to the 51 alphabets in Sanskrit. Each temple have shrines for Shakti and Kalabhairava. The Hair of Sati Devi is said to have fallen here, the Shakti is addressed as Chamundeshwari Devi.
The temple is of a quadrangular structure. Built in Dravidian style, it consists of the Main Doorway, Entrance, Navaranga Hall, Antharala Mantapa, Sanctum Sanctorum, and Prakara. There is a beautiful seven-tier Gopura or pyramidal tower at the entrance and a 'Vimana' (small tower) atop the sanctum sanctorum. Atop the 'Shikara', the tower at the entrance, are seven golden 'Kalashas'.
History
The Hoysala rulers are believed to have built the original shrine in the twelth century. The tower is thought to have been built by the Vijayanagar rulers during the 17th century.  Around one thousand steps was built leading up to the summit of the hill. Huge granite idol of Nandi over 15 feet high, and 24 feet long sits on the 800th step on the hill in front of a small Shiva temple a short distance away.  The temple has a seven storey tall Gopura decorated with intricate carvings. The deity of the goddess is said to be made of gold and the temple doors of silver.  Krishnaraja Wodeyar III repaired the shrine in 1827 A.D and built the present beautiful tower at the entrance (Gopura). Blessed by the Goddess, Krishnaraja Wodeyar, an ardent devotee of the mother Goddess, presented to the temple a 'Simha-vahana' (A lion-shaped vehicle) and other animal cars and jewels of value. The cars are used even now for processions on special religious occasions.
How to reach?
Chamundi Hill is about 13 km from Mysore, which is a prominent city in the state of Karnataka. KSRTC bus facilities are available every 20 minutes from Mysore city bus stand to Chamundi hill.